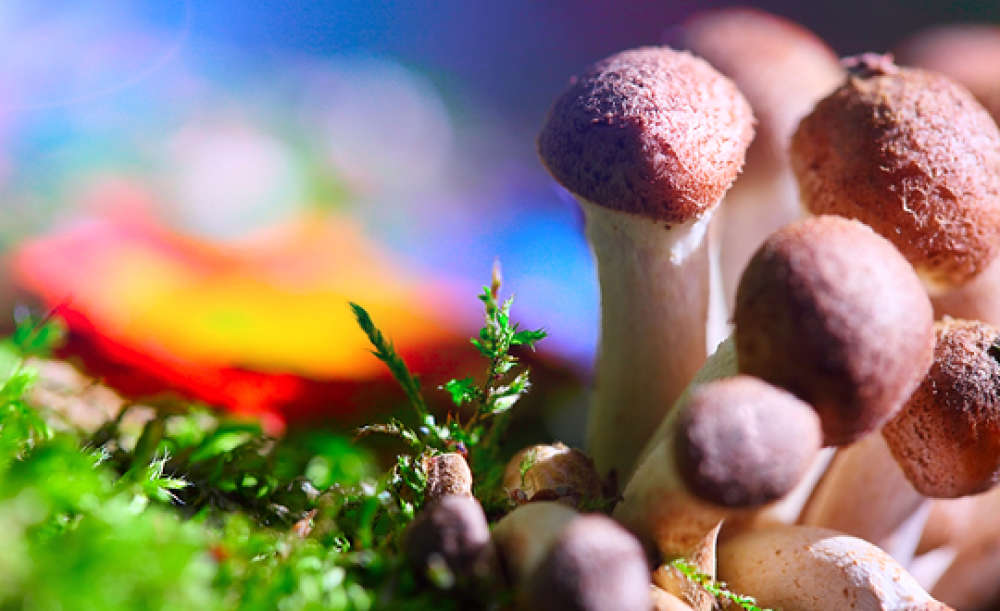 Did you know that there are numerous species of mushrooms? Did you know that some of these species have medicinal properties and are helpful in combating some illnesses?
A great many of us have only encountered mushrooms in some of our favorite meals. We see them in stews, sauces and soups and it hardly occurs to us that they can be anything more than an ingredient.
It will interest you to know that several species of mushrooms have strong medicinal properties. These species have been used for centuries in ancient civilizations such as China, India, Japan and Korea as sources of general body wellness. Recent research has shown that they have anti-viral, anti-bacterial, anti-inflammatory and even anti-diabetic properties.
The more interesting aspect is the ability of mushrooms to impact the mind and reduce levels of stress and depression. Well, not all species. Those button mushrooms in your pizza will likely not do that for you. There are specific species that are grown and processed for this reason.
In this article, we look into these mushrooms and the way in which they impact the body's response to depression, as well review a few products that use them as main ingredients. You will also find a buying guide that will expound on what to look out for in a mushroom supplement.
Let's dive in!
Comparison table for the mushrooms for depression
| Product Name | Physical Form | Quantity | Buy on Amazon |
| --- | --- | --- | --- |
| Genius mushrooms | Capsules | 90 capsules | |
| Sayan Siberian Chaga and Organic Reishi Extract Supplement | Capsules | 90 capsules | |
| Host Defense Reishi Mushroom Powder | Powder | 100 grams | |
| Real Mushrooms Lions Mane Extract Powder | Powder | 60 grams | |
| Host Defense Lions Mane Extract | Fluid | 60 ml | |
| Real Mushrooms Lions Mane Cognition Capsules | Capsules | 120 capsules | |
Best mushroom supplements for depression products review
The products reviewed below have reishi mushrooms and lions mane mushrooms as the main ingredients. They can be consumed in different ways, but they will largely result in the same effect.
Genius Mushrooms – Main anti-depression ingredients are reishi and lions mane mushrooms.
This dietary supplement comes in the form of capsules. One can of Genius Mushrooms contains 90 capsules. It is made by combining three medicinal components that deliver wellness to the entire body. The components included in this formula are the lions mane mushroom, cordycepts and reishi mushroom.
The components of this product work by enhancing natural energy in the body, relieving stress, boosting memory, supporting the liver and, most importantly, enhance mental clarity.
This product is all natural and does not contain caffeine or animal based products.
Pros
It contains other mushroom products that enhance immunity, liver function, relieve stress and enhance natural energy in the body.
Comes as pills for easy consumption
It is entirely organic and does not contain artificial components
It is caffeine free
Cons
Consumption may be a bit difficult for people who do not like capsules
Verdict
This product contains three mushroom types that will not just impact your mental health but also rejuvenate the working of your body as a whole.
This unique mushroom blend is ideal for stress reduction, immune support, general body wellness and energy boost. It is naturally extracted using hot water then freeze dried to make sure every capsule is packed with essential nutrients.
This product is all natural and is free of gluten, soy, sugar, wheat, GMO, caffeine and dairy products. It is ideal for consumption by vegans as well. The chaga and reishi used in this product is wildly sourced and certified, ensuring high quality.
This supplement is presented in the form of capsules. One can take 1 – 3 pills a day with water and on an empty stomach. It is recommended to take with vitamin C to enhance the absorption of the active ingredients of the reishi mushroom.
Pros
It is entirely organic
It is allergen free and does not contain soy, wheat, sugar, dairy, caffeine or GMO
The constituents are certified to ensure top quality
It is fit for consumption by vegans
Cons
It may be difficult for people who do not like capsules to consume
Verdict
This product also includes chaga mushroom that is ideal for boosting immunity, stomach and heart health and sleep induction. These, combined with reduced depression by the reishi, will see you live in some semblance of peace.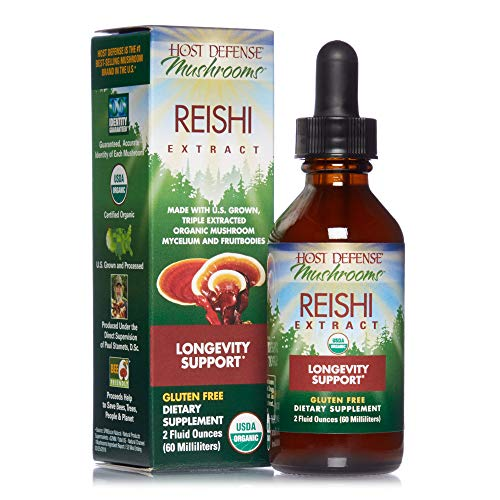 This product is made from organically grown reishi mushrooms. It is shelf stable owing to its method of preparation. It is hot water extracted and then freeze dried to ensure that there is minimal nutrient loss. Half a teaspoon of this powder per serving is ideal and will help to boost general body function.
It can be added into your tea, water, coffee, smoothies and yoghurt. It is free of caffeine, sugar and dairy. It also has no animal based components, making it ideal for consumption by vegans. One can of Host Defense Reishi Mushroom Powder gives 66 servings.
Pros
It is made of organically produced mushrooms
It is caffeine and sugar free
It is fit to use by vegans
It is easy to consume
Cons
Verdict
This product is ideal for persons who do not feel the need to interact with other forms of mushroom. The pure reishi extract will see you enjoy a higher concentration of reishi.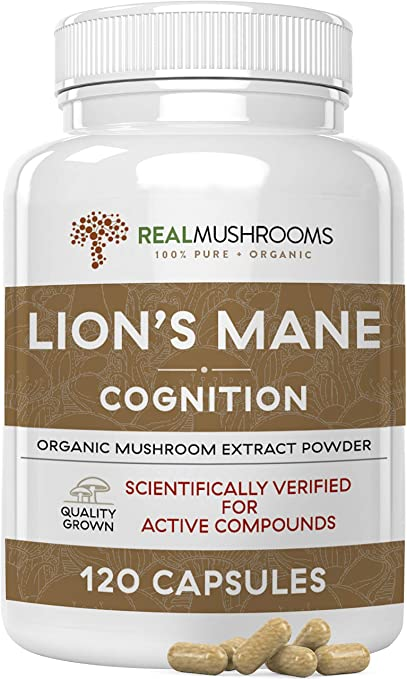 This food supplement comes in the form of a powder that can be added to your tea, coffee, milk, water or smoothie. A serving of this powder will give you 100% lions mane mushrooms. The mushrooms are organically produced and extracted to ensure optimum quality.
This product is fully organic and does not have any artificial additives such as preservatives, flavors and colors. It is also devoid of allergens such as gluten, lactose and nuts. While mushrooms are made of up to 5% starch, this product has less than 3% starch.
The product contains over 30% Beta-glucans which are a widely researched component of medicinal mushrooms.
Pros
It is 100% natural
It can be added into a drink of your choice
It does not contain allergens such as lactose, gluten and nuts
Contains a high amount of Beta-glucans
Contains very little starch, less than 3% of total volume
Suitable for vegans
Cons
It is a bit expensive for its weight
Verdict
The high percentage of Beta-glucans makes this mushroom supplement more potent. The low level of starch is also an added bonus.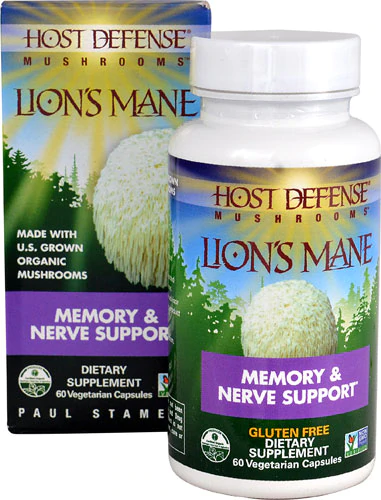 This particular product comes in the form of a liquid extract. It is ideal for creating mental clarity and reducing depression symptoms such as stress. It also encourages a healthy nervous and immune system.
It can be taken directly, or added into food or any drink of your choice. It is safe to take even on an empty stomach. This product is absorbed quite fast in the body. It can be taken as 45 drops twice in a day.
The mushrooms used to extract is fluid are organically grown, and the method of liquid extraction is natural. It has no artificial additives and it is devoid of allergens such as soy, gluten and lactose. It is also ideal for vegans.
Pros
It is all natural
It does not contain allergens
It is absorbed fast into the body
It is easy to consume
Cons
It is quite small and expensive for its size
Verdict
This product is quite easy to consume, especially for persons who do not fancy pills and people who do not have time to make a drink or meal with which to take their supplements.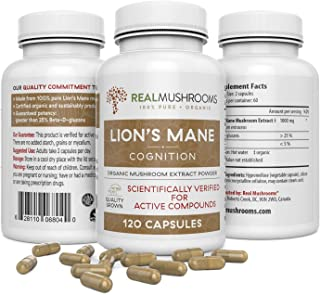 This product is made from 100% lions mane mushroom and it is presented in the form of capsules. The mushrooms used are organically grown and they follow a natural method of extraction for optimal quality.
This product does not have any artificial additives such as preservatives, color and flavors. It also does not have allergens such as nuts, gluten and lactose and animal products are not added into it, making it ideal for consumption by vegans.
You can take 2 capsules at a time. The can is quite large and comes with a total of 120 capsules.
Pros
The can comes with many capsules
The product is all natural
It does not contain allergens such as nuts, lactose and gluten
It is suitable for consumption by vegans
It is easy to carry around. Toss it in your bag and pop a capsule at work or in the gym
Cons
Difficult to consume by people who do not like capsules
Verdict
Lions mane is an excellent supplement for boosting general brain function. You will have more clarity in your thoughts and have heightened cognitive responses.
Reishi and Lions Mane Mushrooms – How do they work?
These two mushroom types are excellent for helping in reduction of depression. Here is how they work.
Ganoderma lucidum (Reishi)
Most commonly referred to as the Reishi mushroom, Ganoderma lucidum boasts a number of medical properties. It has been known to boost immunity, it has anti-inflammatory properties, it is anti-bacterial, anti-viral, anti-diabetic and it also has anti-oxidative properties. This species of mushroom has been an integral part of Asian medicine for centuries, and it was mostly used in tonic herbs. The mushroom was held in high regard, and it was mostly reserved for royalty and the wealthy.
It has been dubbed the "supreme protector" for its numerous benefits, but perhaps its ability to give a sense of calmness and reduce stress levels in people is the most significant importance. Taoist sages and monks in China have been known to use this mushroom constantly to cultivate calmness of the mind, for stress reduction and the ultimate creation of positive spiritual energy.
In what ways does Reishi help in reducing depression?
Stress Reduction – The Reishi mushroom has an abundance of bioactive constituents that have some form of impact on the human body or other. There are over 400 of them, and they present themselves as proteins, vitamins, enzymes, fatty acids, steroids, treterpenoids, polysaccharides, steroids, sterols and minerals. Of these constituents, the ones that have an impact on mental health are the treterpenoids and polysaccharides. The use of these mushrooms has helped patients feel mentally lighter and happier. General feelings of relaxation have been observed, and patients have been seen to lighten up and seem less stressed.
Sleep induction – Most people who are going through depression experience lengthy periods of insomnia. It is brought about by constant thinking which causes the brain to receive signals of alarm from the nervous system. When the brain assumes the state of alarm, sleep becomes a problem. Reishi acts as a nerve tonic which causes the nerves to relax. The alarm signal transmission is disrupted, causing the brain to relax as well. The sleep cycle gets restored, and the patients are able to get sufficient amounts of sleep.
Reduced alarm levels also make for a quitter state of mind, adding to the feeling of calmness and reduced stress.
Anxiety relief – Reishi has bioactive material that works on the adrenal glands. When a depressed person is also experiencing heightened paranoia, the adrenal glands tend to go on some sort of overdrive. They release excess adrenaline into the body, making the person feel more on edge. The insomnia becomes more intense, and the person becomes more depressed. This vicious cycle makes it increasingly difficult to beat the condition. Reishi mushrooms also relax the adrenal glands. Less adrenaline means less paranoia and anxiety, causing the levels of stress to be reduced.
Hericium erinaceus (Lions Mane)
Most commonly referred to as the lions mane mushroom, this fungus comes with a wide array of medicinal benefits for the human body. It gets its name from its growth characteristic that makes it resemble the mane of a lion. It has been used in Asian countries such as India, Japan, China and Korea or medicinal and culinary purposes.
It has been described as seafood-like with people comparing it to lobster and crab. This mushroom, much like the reishi, is packed with bioactive components that make it incredibly beneficial to the body. It has properties that help to rejuvenate functions in the heart, gut and brain.
Part off its main benefits is the ability to relieve symptoms of depression and stress among people who are experiencing them.
How does Lions Mane Mushroom help in reducing depression?
A study dubbed the monoamine hypothesis of depression shows that the main signs and symptoms of depression can be traced to reduced transmission in the monoamine system. This deficiency causes an imbalance in the chemical composition of the brain which directly affects the brain's perception of stress. It was observed that the use of lions mane caused a considerable reduction of this imbalance by inhibiting the transmitters of stress signals in the brain.
Lions mane also helps in regenerating brain cells and helps in improving functions in the hippocampus, a part of the brain that processes memory and emotional response. This improvement in the functions of the hippocampus may explain reduced anxiety and depression.
Just as in the reishi mushrooms, it may be difficult to find and prepare these mushrooms from home. That is why there are food supplements made from them that make it easier to purchase and consume them.
What should you look out for when buying mushroom supplements?
Go for a mushroom extract
Mushroom extracts tend to have a higher concentration of the mushroom. Remember that the actual mushroom has a high concentration of water, especially before drying. Extracts have a higher concentration of the important nutrients. Also, only buy mushroom supplements that are extracted using hot water. This is the only extraction method that ensures the bioactive nutrients are preserved. If a product does not indicate 'hot-water extracted', do not purchase it.
All medicinal compounds must be declared
Ensure that all potent components are well indicated, including possible allergens and artificial allergens. The components should be well indicated, with their quantities included.
Do not purchase products with Mycelium
Although mushrooms and mycelium are almost similar, the latter are not half as helpful. They are grown in plastic bags, usually in a lab or other form of controlled environment. They usually lack beta-glucans, the most important components of medicinal mushrooms. Without these, the supplement will do absolutely nothing for your body and mental well-being.
Final thoughts
Depression can be a debilitating disease and can cause untold pain to a person. Nature has been kind enough to gift humanity with natural ways to combat stress and depression. The use of mushrooms is not only beneficial to mental health. It positively impacts the entire human body, adding to the quality of life.