Most plants have both culinary and medicinal benefits and while some of them are edible, a good number can only be consumed as extracts. Most of the medicines used for the treatment of various illnesses are normally developed from the naturally occurring molecules that are derived from bacteria, plants, and fungi.
The above is the reason why we have food supplements that are made artificially such as minerals, vitamins, and antioxidants and these come in the form pills, liquids, gel tablets, and capsules among others. There are also dietary supplements such as minerals, amino acids, multivitamins, and herbs that come from natural sources like plants.
Given that medicines already have side effects, some supplements need not be taken in combination, so the only favorable option is to go natural and heal your body with the naturally occurring foods that are also medicinal, for example, Lion's mane and Reishi.
So what are the major differences between the Lion's Mane and Reishi
| | | |
| --- | --- | --- |
| Supplements | Lion's Mane | Reishi |
| Categories | 100% pure lions mane powder | Organic Reishi mushroom |
| Ingredients | Bioperine, patented black pepper, Beta Glucan | Reishi mushroom |
| Functions | Helps in clarity and memory focus, provides potent antioxidant benefits, reduces inflammation and provides immune support, also supports cognitive performance | Promotes liver and kidney function, improves heart health, helps in the balancing of hormones, protects against allergies and asthma, also helps to detoxify |
| | | |
Lion's Mane Vs Reishi-How do they differ?
Categories
Both Lion's mane and Reishi supplements are 100% made from the original product, so you don't expect to get allergies from using artificial colors that are mostly incorporated in supplements, the supplements have also abstained from the use of preservatives and flavors.
Lion's mane mushroom can be used as a culinary or for medical purposes, you can, therefore, consume it while raw, you can cook or dry it before consumption and it can also be steeped as a tea. And even better is that individuals who love the delicacy describe it as having a seafood-like taste and has many a time been compared to either a lobster or a crab.
The mushroom plant has been determined to contain bioactive substances that can help the brain, gut, and heart.
Reishi mushroom, on the other hand, is classified as a fungus, and unlike Lion's mane, the mushroom cannot be consumed raw, as it is bitter and is characteristic tough and woody. Both parts of the mushroom are adopted for medicinal use that is the part above the ground and the one under the ground.
Ingredients
Isn't it interesting how you enter a store and while on the shelves opt to choose one supplement over the other though they have the same names and are probably from the same company, well it's all about the ingredients used, that one might have what the other is lacking.
And the same applies to Lion's mane and Reishi mushroom, while the latter claims to contain only the original plant, Lion's mane has incorporated a few ingredients, for example, the patented black pepper has been clinically proven to assist in absorption.
While the Bioperine extract helps in absorption, and aids in enhancing the effects of the lion's mane mushroom.
Lion's Mane Vs Reishi – Functions or benefits
Some diseases are not curable and so to manage them you will need to keep taking dosages of drugs, while the above is a viable option to maintain your health; supplements are also a good option but under the advisement of a physician. So what are the health benefits of Lion's mane mushroom? For one it helps to reduce the mild symptoms of depression and anxiety.
Large populations around the world are living under depression and get frequent anxiety attacks, and while we cannot pin this condition on one cause, chronic inflammation is one of the most common causes. The lion's mane mushroom extract has, therefore, been established to help alleviate the symptoms of anxiety.
The supplement is believed to help in the regeneration of the brain cells, and consequently improve the functioning of the hippocampus. It is, therefore, believed to protect people from ulcers of the digestive tract; ulcers like to make a dwelling either in the digestive tract, and in the large or small intestine, and their cause has been attributed to the damage of the stomach's mucous layer or due to the overgrowth of the H.Pylori bacteria.
So individuals who are in the habit of taking Lion's mane extract can be protected from H.Pylori as the supplement is believed to inhibit their growth thus protects the stomach's lining from damage.
Apart from improving brain performance and enhancing the cognitive functions, Lion's mane has also been established to reduce the chances of contracting heart diseases, and constant intake of the supplement has been established to reduce chest pains and the shortness of breath especially in people who have clogged arteries.
The supplement might also help fight lung cancer, but don't be mislead to think that it can help reduce the size of the tumor, on the contrary, if you constantly partake of it then it will help in enhancing your immune function and consequently contribute to your quality of life especially of people suffering from lung cancer.
Still, on matters health, Reishi also has some significant health benefits to the human body, the mushroom is, therefore, believed to contain chemicals that tend to protect the body in varied ways, for example, it inhibits the growth of tumors, and enhances a person's immune system thus prevents and treats the infection.
The mushroom is also believed to help with aging, so the above benefits are derived when the supplement is used individually but when combined with other herbs, its effectiveness is increased and can be used in the treatment of prostate cancer. And when combined with other ingredients the mushroom extract is believed to be capable of treating cold sores, genital herpes, and human papillomavirus.
Another effective use of Reishi is that it helps lower blood pressure, however, according to research; if you have slight blood pressure then the extract won't be of much help as it has been established to be effective in individuals with severe cases of high blood pressure.
Lion's Mane Vs Reishi supplement reviews
Lion's Mane
Features and Ingredients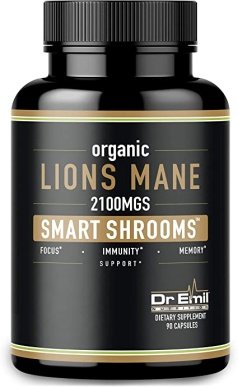 Lion Mane is extracted via the state of art- hot water method, this is to help ensure that all the nutrients are not lost during extraction; the supplement is 100% natural so you will benefit from all its natural nutrients. Besides, the supplement's formulation has not incorporated any preservatives, or additives to improve its taste or enhance its color.
The supplement's major contribution to human health is that it helps in enhancing cognitive functions. Well given the above, the supplement can best be utilized by the older people who tend to lose some of their cognitive functions as they age and kids who exhibit slow development, the above should, however, be taken under the advisement of a doctor.
Pros
Contains 100% pure Lion's Mane extract
Helps to boost the immune system
Helps in the management of diabetes symptoms
Reduces the chances of contracting heart diseases
Cons
Not effective on everyone
Has side effects including headaches
Reishi
Features and Ingredients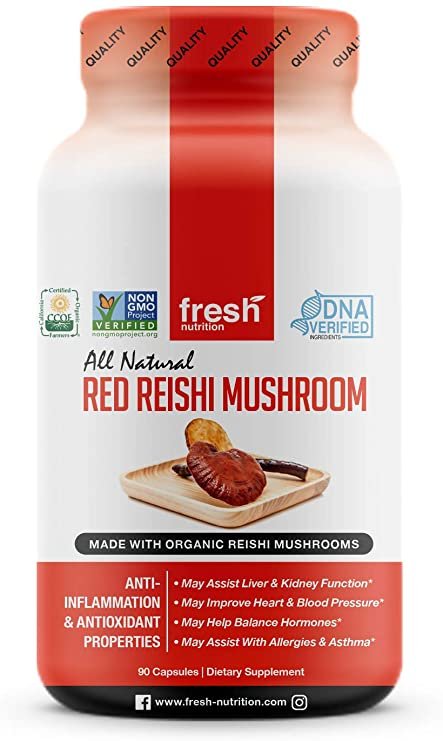 Upon purchase of the Reishi supplement, users will get up to 90 capsules per bottle, with an intake of 3 per serving. And just like the Lion's Mane, Reishi contains all the nutrients given that the extraction method utilizes the hot water and alcohol method, aimed at enhancing potency and absorption.
Each bottle will, therefore, last you a month, the supplement helps in the reduction of inflammation and has antioxidant properties. So if you are out there and need to enhance your kidney or liver function, or have a close family member or relative that has had previous problems with the above organs then get them to use Reishi.
The supplement is also perfect for the elderly as it helps improve the heart's health, fights allergies and asthma, and helps balance the blood's pressure.
Pros
The extract is packed with nutrients given the extraction method
Absorption in the body is pretty fast and easy
Helps in the prevention of liver and kidney disease
Prevents respiratory and cardiovascular disease
Cons
Effects take long before they can be seen
Dosage is dependent on age and form of the mushroom
Conclusion
Lion's Mane Vs Reishi, Which one is best? While Lion's Mane is an edible type of mushroom that can be cooked or taken raw, Reishi is the exact opposite and unless it is extracted then you are going to have a hard time taking it raw and it will probably leave a sour taste in your mouth. Both supplements are 100% natural thus no additives or flavors, their health benefits are varied and wide, so all you are left to do is pick one that suits your needs.
Frequently Asked Questions
Is it possible to take a combination of Lion Mane and Reishi?
Yes, you might take a combination of the two supplements and switch with other supplements as regards your symptoms, but under the advisement of a physician.
Is the Reishi supplement FDA approved?
Well, Reishi does not have the backing of FDA, important to note however, is that it is not a drug but a dietary supplement made from real food products thus safe for use.