Did you know that some species of medicinal mushrooms can help to get rid of anxiety? They have compounds that work to ease the nerves and mind, and make you feel better.
Anxiety is one of the most difficult things to live with, and for many people living with it, it causes debilitating effects. It literally drains joy and peace from you and you can easily be overcome by fear and constant worry. It is not anything anyone wants to live with.
As with many other conditions, there are drugs administered to persons that suffer the effects of anxiety. These drugs, usually in the form of anti-depressants, allow the person to have some semblance of peace and to feel more relaxed and happier. These drugs have their side effects though, and long term use can cause dependency and subsequent addiction.
Nature has provided us with many remedies for illnesses and conditions since time immemorial. The best antibiotics and other curative drugs are actually obtained from nature. And anxiety has not been left behind. For centuries, medicinal mushrooms have been used to enhance physical and mental wellness of people, and in some civilizations, only royalty and the wealthy had such access.
Things have become easier now, and you can purchase medicinal mushroom supplements that you can use to get rid of anxiety. The most potent mushrooms for this purpose are the Reishi, Cordyceps and Lion's Mane. They are hard to find and prepare, but there are companies that process them into consumable supplements. After trying them out, it is likely you will get hooked, but only for the right reasons.
This article reviews a few a few mushroom supplements that are ideal for relieving anxiety, and also gives a bit of information regarding the mushrooms used. Also, you will find a buying guide to use as you go buying mushroom supplements.
Summary of mushroom supplement products
| Product Name | Active Ingredient | Physical Form | Check on Amazon |
| --- | --- | --- | --- |
| Four Sigmatic Mushroom Hot Cacao With Reishi | Reishi | Powder | |
| Four Sigmatic Mushroom Hot Cacao With Cordyceps | Cordyceps | Powder | |
| Four Sigmatic Lion's Mane Mushroom Elixir | Lion's Mane | Powder | |
| Freshcap Thrive 6 Powerful Mushroom Extract Powder | Lion's Mane, Chaga, reishi, Maitake, Cordyces, Turkey Tail | Powder | |
| Neurogan Organic Cordyceps Mushroom Capsules | Cordyceps | Capsules | |
| PrimalHerb Neuro Shroom Extract Powder | Cordyceps, Reishi, Lion's Mane | Powder | |
The Best Mushroom Supplements for Anxiety Products Review
Nothing beats a nice cup of steaming cacao to calm those nerves. This product is a cacao mix that has reishi mushroom extract added to it. Sip on a cup in the evening before going to sleep and you will sleep like a child.
The product comes in a beautiful package with 10 packets of the cacao powder. It is a ready to drink mix that only needs to be added into a hot cup of water. Feel free to enhance the cacao's taste with milk of your choice, dairy or almond, and a dash of natural sweetener. It is recommended that you skip dessert and have this drink in its place, at least an hour before you get into bed. If you are experiencing a more stressful day, or feeling more anxious than usual, two packets will do you a great deal of good.
The good thing about this product is its versatility. Feeling like baking? Toss a packet or two into your batter and bake away. Feeling like having a cacao smoothie? Sprinkle some on top and enjoy.
The reishi mushroom used in this product organically grown to ensure maximum nutrients for the good of your body. It is GMO free and does not have any fillers or carriers. Each packet will give you 500mg of reishi mushroom extract.
Pros
This product is fun to take
It is conveniently packaged
It has organic reishi mushroom extract
It has no artificial additives
It is a versatile product that can be used in many ways
Cons
This product is quite expensive
Verdict
Taking supplements can at times be boring. This product can be taken in several ways, and you will be able to incorporate it into different drinks and pastries. Reishi mushroom, used in this drink, is known for its ability to calm the nerves and bring a sense of happiness. This cacao mix will have you feeling better in a short time.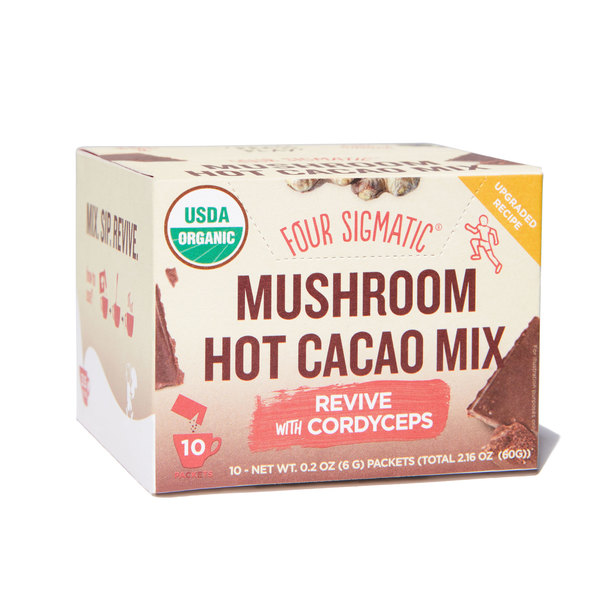 This incredibly clever way of taking your mushroom supplements will make sure you have fun while at it. Made with cacao powder from the high altitudes of the Dominican Republic, this product guarantees quality through and through. It is a mix that contains organically grown cordyceps which are an excellent remedy for anxiety.
The mushroom supplements are extracted using the most appropriate methods for preservation of nutrients. The cordyces used for this product are not derived from caterpillars, making this product also ideal for vegans.
The cacao with cordyceps mix can be added into a cup of hot water, and you can choose to enhance the taste using a dash of milk and a bit of natural sweetener. You can also sprinkle it on your smoothie or add it to your cake batter or baking. The product comes with 10 packets of the drink, and it will last you 10 days. Each packet delivers 500mg of cordycep extract which, apart from making you feel relaxed and less anxious, it will also impact your entire body for the better.
The product contains no artificial additives, and is natural all the way.
Pros
The product is tasty
It contains cordyceps which are great for anxiety relief
The cordyceps used are organically grown
The product is all natural and does not have artificial additives
It can also be consumed by vegans
Cons
Verdict
Cordyceps have long been known for their ability to calm the nerves and mind, causing a feeling of ease and relaxation. Starting or ending your day with this cacao and cordyceps drink will have you feeling more relaxed and less anxious. It is a fun and comforting way of taking your supplements.
Lion's Mane mushroom is known for its ability to impact the brain and rejuvenate its functions. It derives its name from it physical ragged form which mimics the mane of a lion. The mushrooms used to make this elixir mix are wood grown and as organic as can be. The nutrients are extracted using both the hot water and alcohol method, and the preservation and availability of nutrients is guaranteed.
This product delivers 1,500mg of lion's mane extract per serving. The powder can be added into hot water, and you can enhance the taste with a bit of nut milk and natural sweeteners. It can also be added into your cup of coffee or tea, or into a juice or smoothie, whichever you prefer.
It is made with all natural products, and is devoid of any artificial additives such as preservatives. The product is fortified with rose hip which is loaded with Vitamin C and the rhodiola root which is a good adaptogen for the body. It is flavoured using mint leaves and naturally sweetened using stevia leaf extract of high quality so it does not leave a metallic after-taste.
Pros
It is a fully natural product
It is made using organically grown mushrooms
It is ready to drink and can be added to your beverage of choice
It has natural flavors and sweeteners
It is fortified with rhodiola root and rose hip for Vitamin C
It is beautifully packaged
Cons
This product is very exensive
Verdict
This product will be a great addition to your daily routine. Sip on lots of goodness and watch yourself feel and step lighter. Fortified with rhodhia root and rose hip, this elixir mix delivers goodness after goodness. The lion's mane mushroom will bring you calmness, and anxiety will be a thing of the past.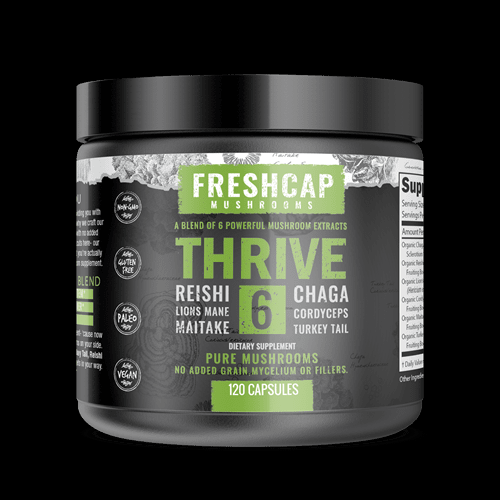 This mushroom extract powder will not just leave you feeling less nervous and happier, it will also leave your body feeling and functioning much better and efficiently. It has a mix of six highly potent medicinal mushrooms which are the Lion's Mane, Chaga, Reishi, Maitake, Cordyces and Turkey Tail mushrooms.
Each of these mushrooms has a high concentration of beta-glucans and triterpenes which are highly beneficial to the body. Lion's mane, reishi and cordyceps mushrooms are excellent for calming the mind and nerves, and bringing a sense of grounding.
The mushrooms used are organically grown, and the extracts are obtained from the actual fruiting bodies of the mushrooms. The product comes as a powder mix, and can be added into any drink of your choice including water, coffee, tea and also smoothies.
This product is all natural. It has no artificial flavors, preservatives and colors. There are also no traces of allergens, making it fit for consumption by all people across the board. The producer has also made sure not to include any animal products in this mushroom powder mix, making it possible for vegans to consume.
The quality of this product is assured, and it comes with a 100% money back guarantee in case you are not pleased with it.
Pros
This product is a mix of 6 highly potent medicinal mushroom extracts
The mushrooms used are organic
The product does not have any artificial additives
The package is self-sealing
Product is allergen free
It is a vegan friendly supplement
It is quite affordable
Cons
It does not come with a scoop
Verdict
This product will have your body reap benefit after benefit. Each mushroom extract used has wide reaching positive effects and you will find yourself feeling calmer and happier. This product will also lead to a boost in brain function, and your cognitive responses will be much sharper. It also remains affordable, even with all these benefits.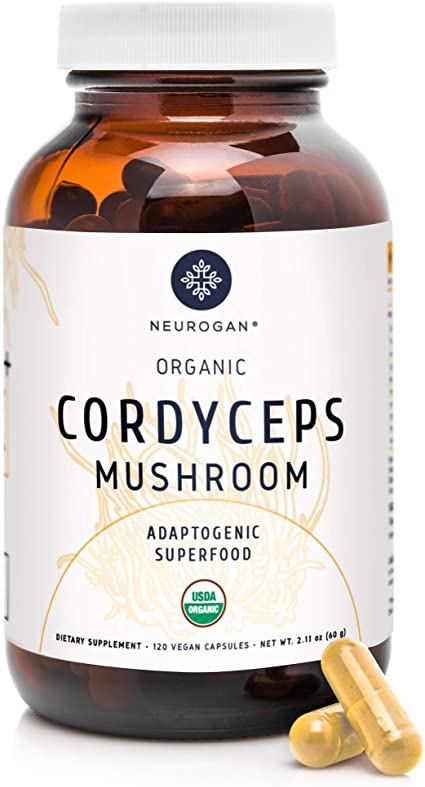 If you hardly have the time to brew a cup of tea or make a smoothie with which to throw your supplements down, this here is the supplement for you. This product comes in the form of capsules which will take you not time to consume.
This product is made from organic cordyceps which is an excellent mushroom for nerve and brain function. The nutrients are extracted using hot water which ensures wholesomeness and integrity. Each capsule contains 1000mg pure cordyceps extract. It is recommended that you take two capsules a day.
The product does not have any artificial additives and has no allergens such as gluten, soy, dairy and nuts. It is also free of any animal product, making it possible for vegans to consume it. One bottle of Neurogan Organic Cordyceps Mushroom supplement contains 120 capsules and will last you a good 60 days.
Pros
The mushrooms used are organically grown
The method of extraction ensures integrity of nutrients
It is all natural without any artificial additives
It is allergen free
It can be consumed by vegans
It is easy to take for people who have limited time
Cons
The capsules may prove difficult for some people to swallow
This product is incredibly expensive
Verdict
While powders are a favorite of many people, there are others who do not have the time to brew a cup of coffee o make a smoothie with which to take their powdered supplements. This capsulated product makes it easy for busy people to take their supplements. It is also easily portable as it can be tossed into your bag to take at your own convenience.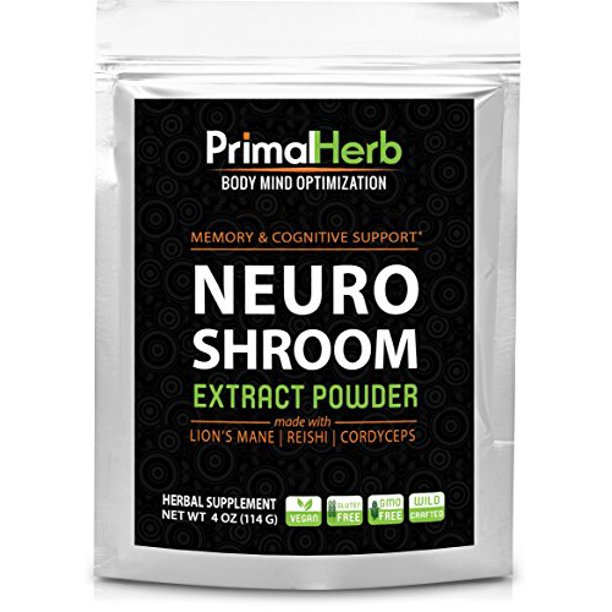 This product is specifically formulated to target wellness of the mind and nerves. With three highly potent medicinal mushrooms, this product will have you feeling less and less anxious by the day.
The three mushrooms used for this extract mix are the Cordyceps, Reishi and Lion's Mane mushrooms. Each of these mushrooms has unique characteristics that make it ideal to positively impact the brain and nervous system. Constant use of this product will help to ease your tension and anxiety, and will leave you feeling much better and more confident.
The mushrooms used for this product are all organic, and the method of extraction used also ensures integrity of nutrients and active components. There are no artificial preservatives, colors or flavors. This product also has no gluten, dairy, soy or nut allergens, and it also has no animal products, making it also ideal for vegans.
Half a teaspoonful of this powder can be added into a cup of hot water, coffee, tea or smoothie, and it can be taken twice a day. It can be taken day or night and it is also safe to take on an empty stomach.
Pros
This product is made using organically grown mushrooms
It is an all-natural product
It contains three highly potent mushroom extracts
It is versatile and can be taken with any drink of choice
It does not have any artificial additives
It has no allergens
Cons
Verdict
This product will have you feeling less anxious and more grounded with constant use. Apart from this, it will also impact the rest of your body, making you healthier.
Buying Mushroom Supplements; What you need to know
These are some of the things you need to look out for when buying mushroom supplements.
Are the mushrooms used organic? Only purchase products made from organically grown mushrooms. Mycelium, which are grown in labs and controlled environments, do not have half as much active components as organically grown mushrooms. Ensure that it says 'Organic' on the package, and if it does not, do not purchase it.
Is the product a powder or an extract? Powders are only a simplified form of the mushroom. The mushrooms are dried and pulverized, then they are packed. While they are nutrient-packed, they do not have a high concentration of active ingredients. Extracts, on the other hand, have a higher concentration of these active components and are more ideal and effective.
Capsules, powders or tincture? The choice of product based on these three parameters is entirely dependent on personal preference. So long as the contents deliver similar concentrations, they will work just as effectively.
Final Verdict
If you find yourself constantly grappling with anxiety, you need not worry much longer. Some medicinal mushrooms have the ability to get to the nerves and calm them down, making you feel more grounded and centered. Taking mushroom supplements on a regular will not just impact your mind. It will also improve your immunity and general body health, making you feel not just happier, but also more confident.