It can at times be difficult to stay consistent in your supplement routine. Forgetting to pop those mushroom supplement capsules can be quite problematic. Have you thought to incorporate your supplements in your morning cup of coffee?
Let's be honest, you have probably forgotten to take your mushroom supplements once or twice, or seven times, but who's counting? Well, your body is. There is probably a time in your life you sat and decide that 'Today is the day. I have to start my mushroom supplement journey today' and you made good your word. You went and bought some good mushroom supplements and began to take them faithfully. All but for three days. You have been thinking that you need to make deliberate effort, but you almost always forget.
You are not alone. A great many of us have undergone the very same thing, and at times it has taken phone alerts to remind us to take our supplements. But what if I told you that there are mushroom supplements that could easily be incorporated into your morning or evening routine?
Mushroom extracts that come in the form of powders can easily be made part of your day. They can be added into your cup of coffee no matter the time you prefer to take it. Stir it and slurp it up and you are good to go!
This article will review a few mushroom powders that are incredibly helpful to the body in different ways and that can easily be added into your coffee. You will also come across a buying guide that will help you as you search for your ideal mushroom powder.
Let's dive right in!
Summary of Mushroom Powder Products
| Product Name | Active Ingredient | Servings per pack/ Weight | Buy on Amazon |
| --- | --- | --- | --- |
| Four Sigmantic Mushroom Elixir With Chaga | Chaga mushroom | 10 servings | |
| Four Sigmatic Mushroom Blend Mix | Chaga, meshima, Reishi, Cordyceps, Enokitske, Maitake, Lion's mane, Tremella, Agaricus blazei, Shiitake | 30 servings | |
| Organic Mega 10 Mushroom Complex | Lion's Mane, Chaga, Turkey tail, Cordyceps, Oyster, Shiitake, Maitake, Reishi, Mesima, Wood ear | 10 ounces | |
| TerraSoul Superfoods Organic Reishi Mushroom Powder | Reishi mushroom | 5.5 ounces / 78 servings | |
| Host Defense Turkey Tail Mushroom Powder | Turkey Tail mushroom | 4.8 ounces / 66 servings | |
The Best Mushroom Powders to add in Coffee Products Review
Packed with anti-oxidants, the chaga mushroom is a super food that will have your body feeling healthy and great. It is known as The Father of Mushrooms. Allow your entire being to be rejuvenated with this chaga mushroom elixir powder.
The mushrooms used for this product are grown organically, and the active components are extracted by means of the hot water method that ensures integrity and quality. Add this elixir into your cup of coffee and enjoy the benefits throughout the day.
You can also add a bit if nut milk and natural sweetener to enjoy your cup even more. In case you are experiencing a difficult and stressful day, two cups of coffee with this chaga will do you a lot more good, and you will sleep like a child.
This product also has eleuthero, an adaptogenic root, added to it. It is also packed with Vitamin C from the rose hip also incorporated into the mix. It has a nice subtle flavor of mint, obtained from organic mint leaves.
This product is all natural and has no artificial additives. It gets it red color from the natural rose hip, and its flavor from mint leaves. It is also free of allergens such as gluten, soy, dairy and nuts. If you are a vegan, you will also be able to take this product since it has no animal products added to it.
It also comes in a unique package that has 10 packets of the elixir mix. Each packet delivers 1,500mg of chaga mushroom extract. The pack will last you about 10 days.
Pros
It is beautifully packaged
It is made using organic mushrooms
It is all natural with no artificial additives
It is free of allergens
It is vegan friendly
It has eleuthero added to it
It is fortified with Vitamin C from rose hip
It is naturally flavored with mint
It is ready to drink
Cons
This product is quite expensive
Verdict
What better way would you want to have your coffee than having it with a healthy chaga mushroom boost and a subtle minty flavor? This mushroom elixir packs loads of health benefits and still manages to make your coffee taste heavenly.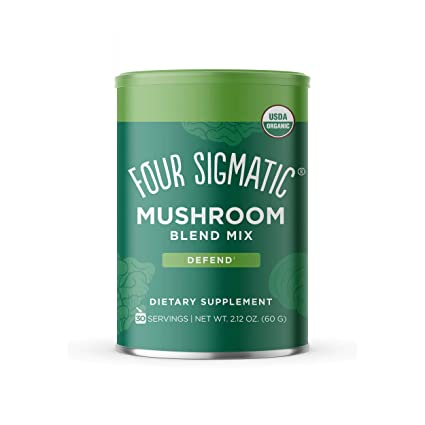 This medicinal extracts mix packs quite the mushroom punch. It contains active components from 10 highly potent medicinal mushrooms, and is fortified with Vitamin C from rose hip.
The 10 mushrooms used are:
Chaga mushroom which is incredible for boosting immunity and bringing wellness to the brain.
Meshima mushroom known for its ability to support immune unctions in the body
Reishi mushroom which has incredible stress relieving properties and its ability to improve gut and liver health
Cordyceps mushroom which supports the use of natural energy in the body and helps in the maintenance of optimal blood sugar levels
Enokitake mushroom which has a wide range of anti-oxidant properties and is known to be incredibly tasty
Maitake mushroom which is known to support the immune system of the body
Lion's mane mushroom that has the ability to impact the brain and support cognitive functions and is incredibly delicious
Tremella mushroom known for its ability to enhance beauty from the inside out
Agaricus blazei, an incredible supplement or immunity and general body functions
Shiitake mushroom which is also excellent for immunity
With all these combinations, no stone as far as your body's health is concerned will be left unturned. To add icing to the cake, this blend is fortified with Vitamin C from rose hip. All mushrooms used are organic, and this product is entirely natural. It has no additives, it is free of allergens and is a perfect fit for vegans.
This mushroom mix is beautifully packaged and it contains 30 small packets. It will last you a good 30 days.
Pros
It is a blend of 10 highly beneficial mushroom extracts
All components are entirely organic
It is fortified with Vitamin C from rose hip
It has no artificial additives
It has no allergens
It is vegan friendly
Cons
This product is quite expensive
Verdict
Taking this product will make you feel as good as a wardrobe overhaul does, only this time, it will be a health overhaul. Adding this powder to your morning coffee will give you a health boost and cause you to feel much better, happier and bear clearer thoughts.
Your mind and body will be glad you picked this powder and made it a daily supplement. With so many medicinal mushroom extracts in one scoop, your health will enjoy a mega boost, your mind will be sharper and your thoughts calmer.
The 10 mushrooms used in this product are:
Lion's mane which is known to boost brain function and ease mild symptoms of anxiety and depression. It is a feel-good mushroom.
Chaga mushroom which is incredible for immunity. It has a high concentration of anti-oxidants
Turkey tail mushroom which also has a high anti-oxidant level which is good for the body's immunity
Cordyceps mushroom which is excellent at blood sugar regulation and slowing down the aging process
Shiitake mushroom that is ideal for weight management due to its ability to reduce food intake and delay absorption of nutrients
Maitake mushroom which has a high concentration of beta-glucans, anti-oxidants, Vitamin B and C and lots of dietary fiber and minerals
Reishi mushroom, an incredibly effective remedy for anxiety and depression, and a good immunity booster. If ever there was a 'Mother of Mushrooms', this would be it.
Mesima mushroom which is loaded with glycoproteins , triterpenoids and ergosterols which are effective immune boosters
Oyster mushroom which have a high protein and dietary fiber content and are excellent in prompting the body to produce anti-oxidants
Wood ear mushroom which has a high dietary fiber and iron content
This mix has quite the diversity of extracts that are of great benefit to the body. Adding this mix to your morning or evening cup of coffee will give you the oomph you need to live a healthy and vital life.
The product is made from organically grown mushrooms and it has no artificial additives. It is also allergen free and vegan friendly. One scoop is enough for a day, but if you need an immunity boost due to an underlying condition, speak to your physician on additional doses.
Pros
It is a combination of 10 mushroom extracts, making it highly beneficial to the body
All mushrooms used are organically grown and extraction is also done using organic means
It is an all-natural product devoid of any artificial additives
It is allergen free
It is vegan friendly
It is quite affordable
Cons
Being rich in dietary fiber, it may cause a reduction in appetite and that may be a drawback for some people who have no intention of losing weight.
Verdict
10 mushroom extracts in a single pack sounds too good to be true. Well, it is good, and it is true. This addition to your morning coffee will not just give you the caffeine boost you need, it will also improve your immunity and alleviate symptoms of anxiety. Your body and mind will be happier for it.
The Chaga mushroom is commonly referred to as the Father of Mushrooms, but if ever there was a Mother of Mushrooms, this right here, the Reishi, would be it. It is an incredibly powerful and potent medicinal mushroom that has the ability to set the body's crucial functions right. Do you need stronger immunity? The reishi will do it for you. Do you feel anxious? Relax your nerves with a bit of reishi. Do you have a sensitive stomach that needs a bit of tolerance? Reishi is your answer.
Adding a third of a teaspoonful, equivalent to 2 grams, of this powder into your cup of coffee will steadily build on your overall health. The mushrooms used are organic, and the extract is obtained using the hot water method, ensuring the integrity of all active components.
This product is free of any artificial additives and also has no allergens. There are no animal products in the powder either, making it vegan friendly. The pack weighs 5.5oz. and has a total of 78 servings.
Pros
This product is 100% reishi mushroom extract, a highly beneficial food to the body
The mushrooms used are organically grown
The extraction method maintains integrity of extracts
It is fully natural
It has no allergens
It is vegan friendly
Cons
It is a bit expensive for its quantity
Verdict
Reishi mushroom extract is one of every mushroom supplement enthusiast's go-to extracts. It is highly beneficial and it seems to have a positive impact on most parts of the body. Add this to your cup of coffee and sip your way to health.
Turkey Tail mushroom gets its name from its growth characteristic that causes it to resemble, you guessed right, the tail of a turkey. It is, however, known more for its range of benefits to the human body.
It is good at boosting immunity and has been known to inhibit the growth of cancer cells. This product is made of turkey tail mycelium which is not particularly the same as the naturally growing turkey tail mushroom.
The product is made using organic mycelium which is certified as safe and organic. It is finely milled, making it easy to incorporate it into your daily cup of coffee for its health benefits.
This product does not have any artificial additives such as preservatives, color and flavor. It is also free of allergens such as nuts, gluten, soy and dairy. It is vegan friendly since it does not have any animal products incorporated into it.
Taking half a teaspoonful or a third of a teaspoonful depending on your health needs will help your body's immunity grow and become stronger.
Pros
It is an all-natural product
It is finely milled for easy mixing
It does not have allergens
It is vegan friendly
It is certified as healthy and organic
Cons
Being mycelium, it is not half as potent as the naturally occurring turkey til mushrooms
Verdict
If you feel the need to boost your immunity this product may be ideal for daily use. Being finely milled, it will mix quite well in your coffee. The downside is that it is from mycelium which is grown in controlled environments and is not as potent as the naturally occurring turkey tail mushrooms.
Buying a Mushroom Powder for your Coffee: What you need to know
When going to buy a mushroom powder, what do you need to consider, and what should you look out for?
Powder or Extract?
Mushroom powders are just that, powders. It is the pure form of the actual mushroom, dried and milled. Powders are beneficial, but not as much as extracts.
Extracts have a much higher concentration of active components. They are obtained by putting the organic mushrooms in hot water to obtain them. They may be more expensive, but their benefits far outweigh those of the powders
Natural Mushroom or Mycelium?
Mycelium are basically grown in controlled settings such as labs. They are obtained from the vegetative part of the fungus. They lack in beta-glucans, making them a lot less effective than the actual mushrooms.
Natural mushrooms have all the important nutrients. The fruiting body of the mushroom is used for the supplements and they are highly beneficial.
Labeling
Make sure that any product you pick off the shelf has all necessary information regarding its contents. All medicinal components should be declared along with their quantities. Ensure that there is information regarding possible allergens and additives that have the potential to cause adverse reactions in your body. There should also be recommendations regarding the dosage.
Final Thoughts
If you are a coffee enthusiast, getting your morning or evening fix of caffeine is important. Adding a highly potent medicinal mushroom to your cup of coffee will be of incredible benefit to you. You will acquire stronger immunity, calmer nerves, better memory, better cognitive responses and a healthier body depending on the mushroom supplement you choose.
It would be a better idea to get a powder that has extracts from a variety of medicinal mushrooms. This way, your whole body will be positively impacted, and you will have a spring in your step knowing you are healthier as you tackle your day to day activities.
Try and choose an extract that mixes well into your coffee. Use the brief guide above for a few pointers as you go in search of a suitable brand for you.
Happy shrooming!