Mushroom powders are incredible for making sauces and adding depth to food. They can bring a fun and interesting twist to an otherwise regular meal, and they also add nutritional benefit to our meal.
Do you know the different categories of taste in food? Food can be categorized as sweet, sour, salty and bitter. But did you actually know that there is an extra taste that is used to describe 'meaty' dishes? It's called umami, and it is used to describe savory dishes. It is a Japanese word and can be translated to mean 'a pleasant savory taste'.
From a scientific standpoint, umami is the description of the taste of glutamate (glutamic acid), guanylate and inosinate. Glutamate is a commonly occurring amino acid in many vegetables and animal proteins. Guanylate mostly occurs in plants, while inosinate is mainly found in meats.
So what is the relationship between mushrooms and the umami taste? Mushrooms have a high glutamate content, and drying them increases the concentration. Different mushroom types have different glutamate concentrations depending on their natural composition. Here are a few examples of glutamate content per 100g:
Common mushrooms: 40 – 100mg
Shimeji mushrooms: 140mg
Truffles: 60 – 80mg
Enoki mushrooms : 90 – 134mg
Shiitake mushrooms: 70mg
Dried Shiitake mushrooms: 1,060mg
Cooking with mushroom powders could cause your regular source to jump from a 6 to a solid 9 on a savory scale of 1 – 10. Apart from this reason, mushrooms are known to contain nutrients such as Vitamin B which is highly beneficial in the human body. It is good for immunity and lower cholesterol levels.
This article will review a few mushroom powders that will give your meal that umami taste and add some nutrition to your meal. You will also find a buying guide on how to pick the best mushroom powders for cooking.
Let's dive in, shall we?
Comparison table for the best muschroom powders for cooking
| Product Name | Mushroom(s) Used | Check on Amazon |
| --- | --- | --- |
| Takii Umami Powder, Magic Shiitake Mushroom Seasoning | Shiitake | |
| Trader Joe's Mushroom & Company Multipurpose Umami Seasoning Blend | Porcini, White Button | |
| Seed Ranch Umami Seasoning | Porcini | |
| Nom Nom Paleo Seasoning Powder Magic Mushroom | Porcini | |
| QiVeda Umami Powder | Shiitake | |
| Collected Foods Pure Porcini Powder | Porcini | |
| Umami Salt, Shiitake Mushroom + Kosher lake Sea Salt | Shiitake | |
The Best Mushroom Powders for cooking Products Review
This shiitake mushroom seasoning powder will have you unlocking levels of taste you had no idea existed. This ready to use seasoning powder can be added into your sauce as it comes to a broil, or sprinkled directly into your food for instant great taste.
Made using the shiitake mushroom, this powder will not just add great flavor to your food, it will also give a healthy boost to your body. The shiitake mushroom is a potent medicinal mushroom that has bioactive compounds that are known to boost immunity and improve cardiovascular health. It is also good for protecting against malignant growths.
This product has only 4 ingredients. It consists of shiitake mushrooms, salt, mushroom extract and calcium carbonate. It is gluten free, has no soy and is vegan. It is also non-GMO.
Pros
This product is all natural
It has no allergens
It is non-GMO
It is resealable
It is affordable
It has a long shelf life
Cons
It does not come with a scoop
Verdict
It is rare to find seasoning that has an aspect of health in it. You will enjoy your food, and your body will also benefit. Everyone loves a good win-win.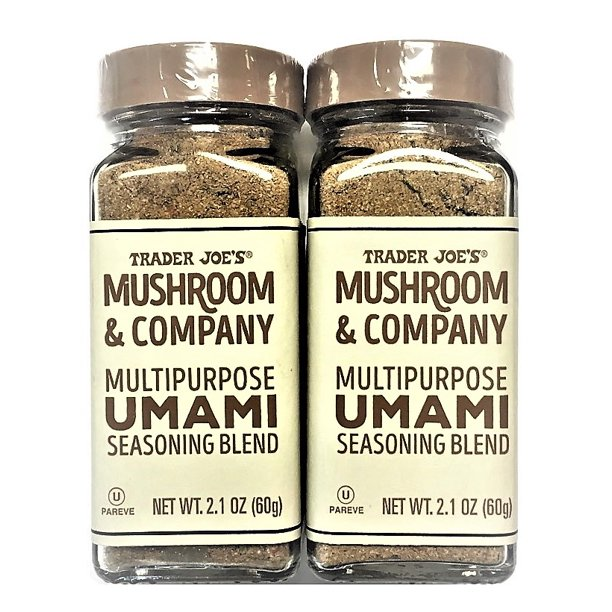 This product adds an incredible umami taste to just about any savory dish you decide to make. However, it works perfectly in sauces, barbeques and scrambled eggs. It is a ready to eat powder that does not need cooking. Sprinkle it on your burger or add it to your stir fry vegies, the difference remains the very same. You end up with an incredible flavor.
This umami seasoning has ground white button and porcini mushrooms as the main ingredient. They carry a strong savory taste, especially when combined as in this seasoning. The taste of this product is made fuller and better by the presence of other spices and salt.
It is an organic product that does not have any artificial additives such as flavors, fillers and color. It also has no allergens such as gluten, soy, dairy or nuts, making it safe for many people across the board. It is also non-GMO and has no animal products in it, making it also ideal for vegan use.
The main ingredients of this product are porcini mushroom powder, white button mushroom powder, kosher salt, ground mustard seed, dried onions, black pepper, crushed red pepper and dried thyme. It comes in a 2.1 OZ (60g) glass bottle.
Pros
This product combines two tasty types of mushroom
It has other spices that enhance the flavors of food
It has no artificial additives
It is non-GMO
It does not have allergens
It is vegan friendly
It has a long shelf life.
Cons
It is a bit expensive for its quantity
Verdict
As much as this product is a bit expensive, it will have you buying less types of seasoning as a result of the clever mix of spices. This little jar combines two very tasty mushroom types that will have your family and friends asking for more.
Seed Ranch – Umami Seasoning – Ideal for sauces, vegies, noodles, soups, veggies and rice dishes
This Made in Colorado seasoning combines a variety of delicious spices that also work so well in savory dishes to bring out that umami taste. It boasts an all-natural plant based recipe. The most impressive thing about this product is that it is hand made from scratch, an actual labor of love. The ingredients are handled in small batches to ensure absolute quality and the absence of contaminants.
This product is ideal for use by all persons. It has no artificial additives such as preservatives and colors. It is also non-GMO and has no allergens. This seasoning is also a must-have for vegans. It is excellent for bringing that umami kick into vegetable based meals.
The ingredients of this mushroom powder seasoning are porcini mushrooms, smoked paprika, kelp fronds which are harvested in the wild, California garlic, sea salt and nutritional yeast. The added spices are some of the best for savory dishes, and combined with the dried and ground porcini, they will have your meals tasting a little like bliss.
Pros
The product is hand made for optimum quality and purity
The mushroom powder is combined with other spices that make it tastier
It is an all-natural product
It is allergen free
It is excellent for vegan meals
It is non-GMO
It is in a convenient package
Cons
The combination of nutritional yeast and porcini mushrooms may give off a pungent smell. It is, however, not detectable in the food.
Verdict
The combination of mushrooms and other spices is not just convenient, it also gives a new dynamic to the tastes and aroma of food. Using this product will make your everyday meals taste like gourmet dishes. If you are vegan, this product is a must-have.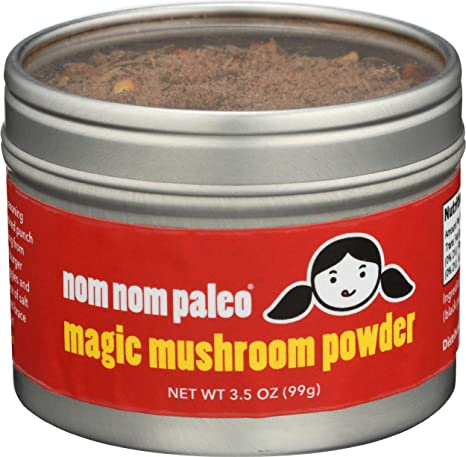 Allow yourself to go nom with this porcini mushroom seasoning. While it may not be as strongly flavored as other seasonings, it adds a subtle earthy taste to savory dishes and barbeques.
Made with a mix of spices that complement one another, this mushroom powder spice will work well to bring out that umami taste you are looking for. This product was invented by Michelle Tam, a Paleo food writer. The recipe combines some of the tastiest spices which flavor and add just a hint of heat to the meal.
The product is all-natural and non-GMO. It also has no allergens such as gluten, dairy, soy and nut products. It also has no animal products incorporated into the recipe, making it vegan friendly.
The ingredients used in this mushroom seasoning are dried porcini mushrooms, sea salt, ground black pepper, ground red pepper, dried thyme and olive oil. If you prefer more subtle and grounded flavors, this is the ideal mushroom powder for you.
Pros
It is all natural with no artificial additives
It has extra spices added into it
It has no allergens
It in non-GMO
It is vegan friendly
Cons
It may not be as powerfully flavored as many people may like
It is quite expensive
Verdict
We all have different preference as far as far as the intensity of spices go. This product is ideal for people who prefer their seasoning subtle and not overpowering. It also packs a bit of heat, creating the perfect balance.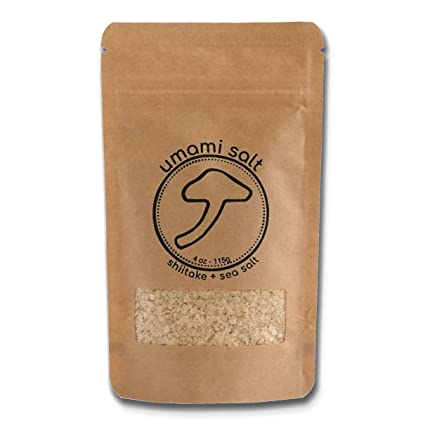 This product is ideal for just about any meal that needs a bit of seasoning and kick. It is made using dried shiitake, and believe it or not, it is a mushroom salt.
It is a simple blend of ground shiitake mushroom and kosher flake sea salt. Many chefs use this product to add that umami taste into dishes. It results in a subtle earthy flavor, and is a great alternative to regular salt.
This shiitake salt combination is natural, you will find no artificial additives such as preservatives and flavors. It is also free of allergens such as gluten, dairy and soy. Being free of animal products, this product is a perfect fit for vegans.
This product has only two ingredients which are shiitake mushroom powder and kosher flake sea salt.
Pros
It is a natural product; no artificial additives are present
It is a non-GMO product
It has no allergens
It is vegan friendly
It can be used as a regular salt alternative on a 1:1 ratio
Cons
Its flavor is quite subtle and it may not be as strong as many people like
Verdict
A salt that doubles up as a spice is a win. This product is ideal for persons who prefer their seasoning subtle and a bit soft, and it can be used in just about anything.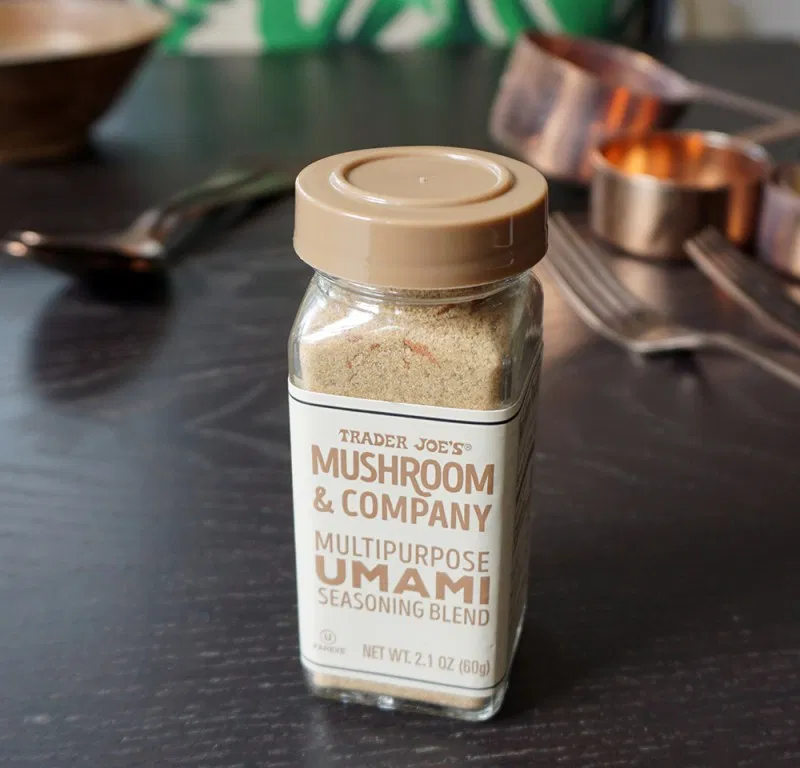 Made using concentrated shiitake mushroom powder, this product will give your food that umami depth. Shiitake mushroom is one of the most strongly flavored mushrooms and it is no wonder it makes excellent cooking powders when dried.
This product is made will all natural products and you will not be consuming any artificial additives from it. It is also a non-GMO product and it is free of allergens. It also has no animal products added to it, making it vegan friendly.
This product can be used in savory dishes, barbeques, veggies, sauces and soups. It has that powerful umami flavor that gives food a new taste all together.
The main ingredients of this product are shiitake mushroom extract, pacific flake sea salt and organic kelp seaweed powder.
Pros
It contains umami powder that is very flavorful
It is a natural product
It is non-GMO
It does not have allergens
It is vegan friendly
It has a nice strong flavor
Cons
It may be a little pungent but it is not detectable in food
Verdict
The combination of shiitake mushroom and kelp sea weed flavors elevates the taste of your food to a whole new level. This natural product is a must-have, and being ideal for vegans, it is ideal for use by all savory dish lovers.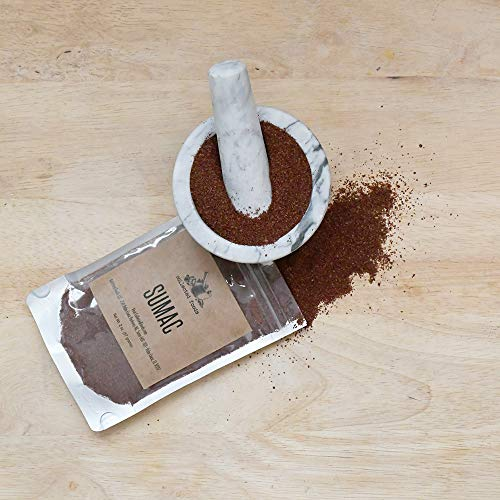 This product is unlike any other umami mushroom powder you have seen. It is made of 100% pure ground porcini mushrooms. There are no other additives, and this makes it pack that strong umami punch.
And because porcini mushrooms are hard to come by, this product is very convenient for people who value the rich umami taste that comes with it. Add it to your gravy, veggies, sauces, soups and barbeques for that kick and wonderful flavor.
This product is non-GMO and it has no allergens. It is also vegan friendly.
Pros
It is 100% dried porcini powder
It is all-natural
It is non-GMO
It has no allergens
It is vegan friendly
Cons
It has no other complementary spices added to it
Verdict
This product is ideal for people who buy other spices separately since there are no additives in this mushroom powder. It gives a strong umami taste to whatever food you add it to none the less.
Choosing a Mushroom Powder for Cooking: What you need to know
Different mushroom powders for cooking result in different flavor intensities. The main reason is the type of mushrooms used. The porcini mushroom tends to deliver a strong flavor, but it a rare mushroom because of how difficult it is to grow them. Much as the mushroom powders give the umami taste, there are different types of the seasoning. Here are 2 main variations.
Mushroom powders with complementary spices
The most common mushroom powders for cooking usually have other spices added to them. These spices are also ideal for savory dishes. Some of these spices may include but are not limited to red and black peppers, garlic powder, dried onions, smoked paprika, dried thyme and other herbs.
These types of mushroom powders can be used in meats, fish, poultry dishes, vegetables, soups and sauces. They usually have a strong umami taste.
Other mushroom powders are more subtle and have no added spices. They give a more earthy and mild flavor.
Mushroom powders from different mushrooms
While all mushroom cooking powders deliver the umami taste t your food, they may be made from different mushroom species. The most common cooking mushroom powder is from the porcini mushroom, but the shiitake mushroom is also a popular mushroom for coking powder.
Both have wonderful flavors and are able to transform an otherwise bland dish into an explosion of flavor.
Final Verdict
Food is a big and important part of our lives, and having good food is a great privilege. While most people are used to incorporating whole mushrooms into their soups, sauces and finger foods, others prefer to use mushroom powders to unlock that unique savory taste of food that the Japanese commonly refer to as umami.
The use of mushroom powders is slowly gaining traction and is becoming a common trend in hotels, restaurants and homes. You may be wondering what all this fuss is about. Well, one try and you just might get hooked. Grab a mushroom powder to use as your seasoning and sprinkle a little into your scrambled eggs or vegetables. When you discover that great taste, you will understand the fuss.
Food will never be the same again, but only for the right reasons.