Are you grappling with low immunity and constantly experiencing poor health? Do you feel the need to boost your immunity using organic supplements?
Mushrooms have long been considered a condiment in different dishes across the world. They are eaten raw, stewed up, fried and even souped up as accompaniment in meals. But this fungus has long been underrated, and it is not accorded enough credit. Mushrooms are a super food. Apart from making awesome gourmet and not-so-gourmet dishes, these little thought of foods are incredibly helpful when it comes to general human health.
Not all mushrooms are super foods, though. Some of them have zero nutritional value, and a good number of them could cost you your life. They could be incredibly poisonous. Lots of research has gone into determining mushroom species that have medicinal value, and if you are looking to boost your immunity, you will be glad to know that there are species that will act as a turbo to your immune system.
What you need to know also is that the body's immunity needs to have some sort of exercise. You may acquire immunity to some diseases after getting exposed to them. But that is a painful road to take, and let's be honest, it takes a great deal of effort and time to acquire strong immunity. Taking immune boosters gives your body the ability to handle an array of diseases by strengthening its capacity to react to the pathogens and to get rid of them.
It is important to note that mushrooms come in diverse shapes and sizes, and even consistency. Finding the actual medicinal mushrooms may be difficult, and even after finding them, preparing them may be a tall order. You may not even know what quantities to take them in. Thankfully, there are companies that process them into different forms that are easy to consume, and they come with dosage instructions and how to take them.
This article will review a few mushroom supplements that will act as immune boosters, along with a bit of information regarding their main ingredients. You will also come across a buying guide that will highlight what you need to look out for in a good mushroom supplement, particularly for immunity.
Let's jump in!
Table comparison for teh ebst mushroom suplements for immunity
Product Name

Active Ingredients

Physical Form

Check on Amazon


Host Defense, My Community Capsules Advanced Immune Support

Lions mane, Reishi, Chaga, Turkey tail, Cordycepts

Capsules

5 Defenders Organic Mushroom Extract Blend

Chaga, Reishi, Shiitake, Maatake, Turkey tail

Capsules

Hatha Mushroom 10 Natural Mushroom Supplement

Cordycepts, reishi, Shiitake, Lions mane, Maitake, Turkey tail, Chaga, Agaricus, White button, Black fungus

Capsules

Ultimate Shrooms Immune System Support Powder

Chaga, Cordycepts, Reishi

Powder

Sayan Siberian Chaga

Mushroom Extract

Chaga

Capsule

Om Mushroom Superfood Drink Mix Immune Plus

Reishi, Probiotics

Fluid
6 Best Mushroom Supplements for Immunity
In this section, we review mushroom supplement products that will help you boost your immunity.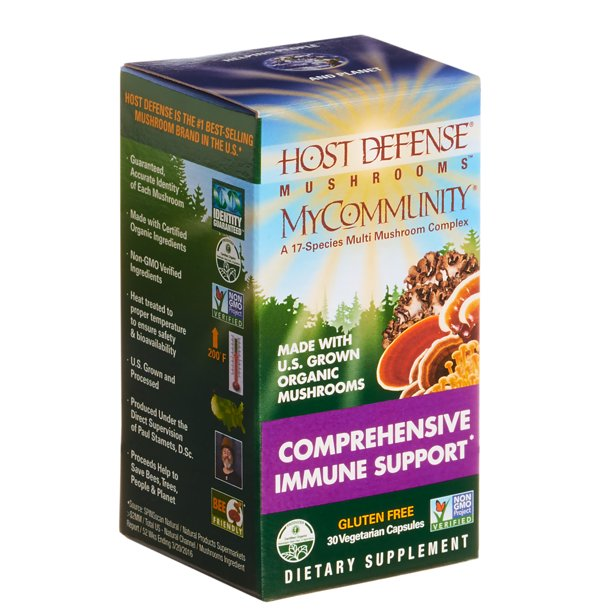 This blend of medicinal mushrooms will boost your immunity within no time, and your body functions will benefit as well.
Active Ingredients
Lions mane
Reishi
Chaga
Turkey tail
Cordycepts
This mushroom complex is made mainly of organically grown mushrooms that target the body's immune system. The product also enhances cellular structure and works to get rid of free radical damage.
These capsules are made naturally, and they have no artificial additives such as color, preservatives and flavors. They are also devoid of allergens such as gluten, dairy and nuts and they are safe for vegan consumption.
Taking 2 capsules a day with a glass of water or juice will see your immunity build by the day. They are safe to take even on an empty stomach.
Pros
This product has up to 17 different mushroom species
It is all natural
It has no allergens
It is also ideal for vegans
Easily portable, you can carry them in your bag to take at your own convenience
Cons
Difficult to take for people who do not like capsules
Verdict
With 17 assorted ingredients, this product packs quite the mushroom punch. You will be glad to know that your immunity will not be the only beneficiary. Your entire body will be able to function better from consuming this product.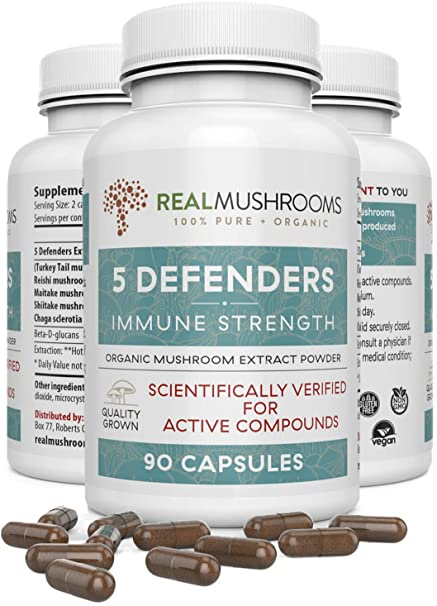 This product contains some of the most potent medicinal mushrooms. Your immunity will receive quite the boost from taking this product.
Active Ingredients
Chaga
Reishi
Shitake
Maitake
Turkey tail
2 capsules of this product will give you an equivalent of 10 grams of dried mushrooms. The 5 Defenders Organic Mushroom Extract Blend is packed with beta-glucans and triterpines which are the most significant part of medicinal mushrooms.
Unlike most mushroom products, this product has no traces of mycelium which is grown in controlled environments and contains little biological and nutritional value. It only contains mushrooms that are organically grown and certified for absolute quality. There are no artificial additives in this product. You will find no flavors, colors and preservatives.
This product is also devoid of sugar, lactose, gluten and nuts. You will not be experiencing any allergies from consuming it. This supplement will improve your immunity and also boost your energy levels, support your memory capacity and reduce your stress levels.
Pros
Contains 5 highly potent medicinal mushrooms
Boosts immunity and other body functions as well
It is made with purely organic mushrooms
It has no artificial additives
It has no allergens
It is scientifically verified for active ingredients
Cons
People who do not fancy capsules may find it difficult to consume it
Verdict
The 5 Defenders Organic Mushroom Extract Blend is a can of wellness. Your body will not just receive a boost to its immunity, other body organs will benefit as well, adding to the general feeling of wellness.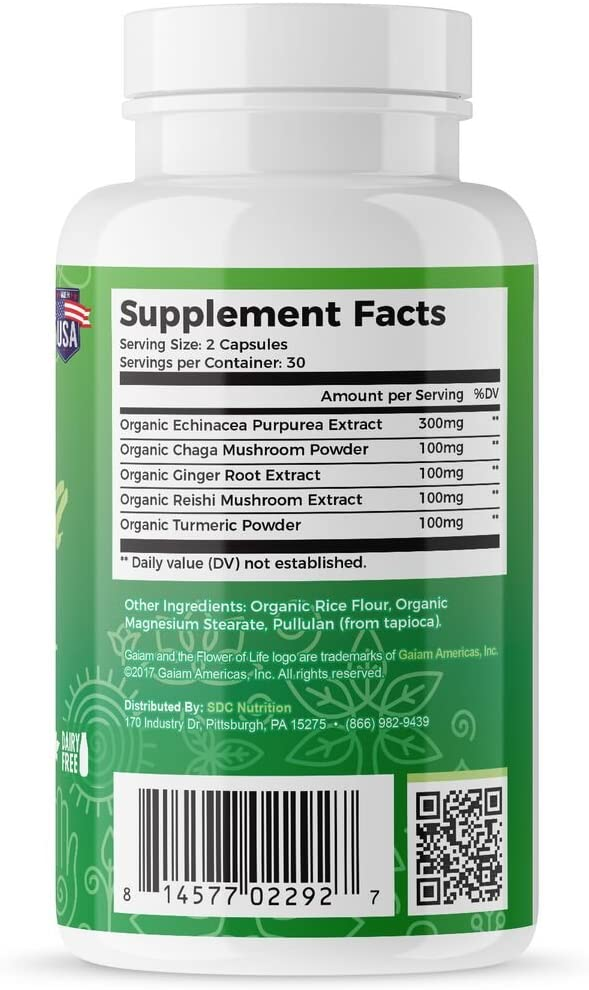 Allow your body and mind to thrive with this blend of medicinal mushrooms. This product is ideally designed to support T-cell functions.
Active Ingredients
Cordycepts
Reishi
Shiitake
Lions mane
Maitake
Turkey tail
Chaga
Agaricus
White button
Black fungus
This product boasts an advanced blend that brings together 10 beneficial medicinal mushrooms. All of them are organically grown, and there are no artificial additives in this product. There is also no trace of allergens, and it is safe for vegan and vegetarian consumption.
This product's active ingredients work together to boost and support the body's immunity. It is specially formulated to promote healthy T-cell function, to help your body fight against toxins and free radicals, promote liver function and increase the body's capacity to fight infection causing pathogens.
Apart from these benefits, your mind will function better, and you will experience better memory and improved cognitive functions. This product also enhances growth of brain cells. You body's energy levels will also see a boost, and athletes will have increased endurance.
Pros
It has many active ingredients
It supports immunity and other body functions
It is made from organic mushrooms
It has no additives
It is allergen free
It is safe for vegans and vegetarians
Cons
Not easy to consume for people who do not like capsules
Verdict
Take this product to improve your immunity and benefit the rest of your body and mind while at it. You will be glad to know that this supplement is quite affordable.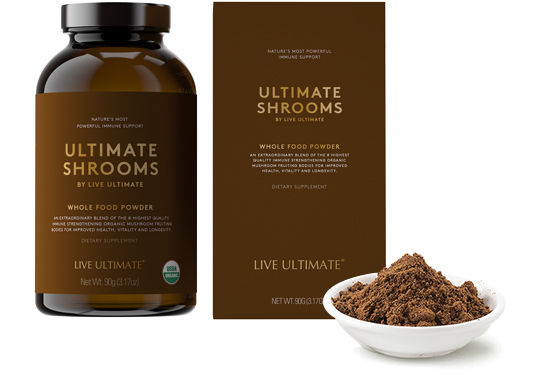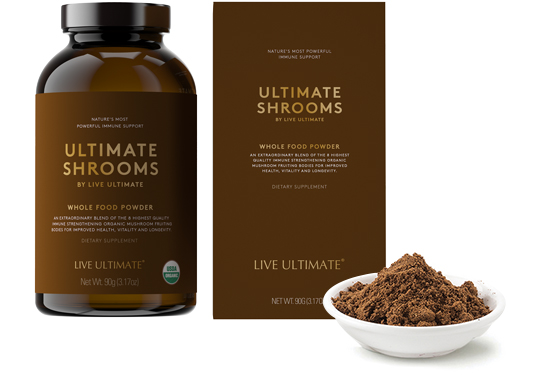 This product has 8 main ingredients which are organically grown on wood logs and harvested using hot water for optimal nutrient preservation.
Active Ingredients
Chaga
Cordycepts
Reishi
lions mane
Turkey tail
Shiitake
Maitake
Oyster
This product, much like most mushroom supplements, will accomplish many things in your entire physical being. Your body will be able to sustain natural energy, you will have an improvement in brain function, cellular health, lower stress levels, hormonal balance, lower cholesterol and blood sugar.
To improve your immunity with this product, take one scoop (3 grams) per day. Being a powder, it will mix well into your water, tea, coffee, juice or smoothie. This product will last you a good 30 days.
Pros
It has a high number of active ingredients
It improves other body functions
It has no artificial additives
This product has no allergens
It is easy to consume since it mixes well into your drinks
Cons
Verdict
This mushroom supplement will not just improve your immunity. Your entire body will benefit from constantly consuming this product.
With only one medicinal mushroom component, this product has a significantly smaller number of active ingredients. Do not be fooled though. The chaga mushroomis one of the most beneficial medicinal mushrooms to the human body.
Active ingredient
This product contains 100% wild chaga mushroom which is an incredibly beneficial fungus to the human body. The mushrooms are grown organically and then harvested with hot water for optimal nutrient preservation.
Chaga mushroom ideally supports a wide scope of body functions. It improves the state of the digestive system, enhances skin health and hair appearance, eases tension of the mind, maintains healthy blood sugar levels and boosts immunity. Each capsule of this supplement has a weight of 400mg. There are no artificial additives and the product is devoid of allergens.
What sets this particular brand apart from other chaga supplements is the fact that the chaga mushroom used is obtained from Siberia which is known to produce the most potent chaga mushrooms in the world.
Care should be taken when consuming this product. Seek advice from your physician if you are taking penicillin drugs or intravenous glucose injections. If pregnant or breast feeding, also avoid this supplement.
Pros
The purest and most potent chaga mushroom is used in this supplement
It is easy to consume as it can be mixed into a drink of your choice
It supports a wide array of body functions
Cons
Verdict
Though only one mushroom species is present in this supplement, it has quite a lot to offer. Apart from greatly improving your immunity, it impacts the rest of the body, leaving you with better overall health.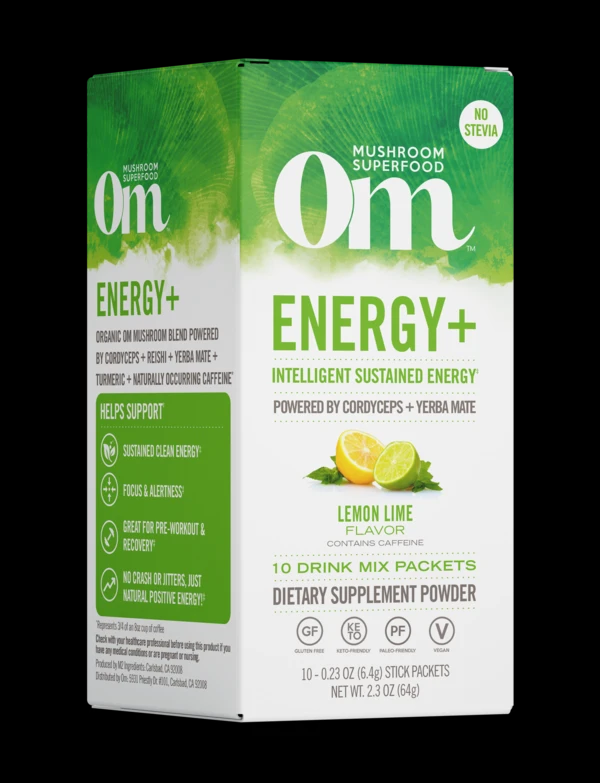 Boost your immunity with this fun drink that is tasty and packed with reishi mushroom extracts and probiotics.
Active ingredients
Reishi mushroom
Probiotics
The mention of probiotics automatically makes you think of a healthy gut. This product will also help you boost your immune functions owing to the reishi mushroom extract it contains. One pack contains 10 drink sticks that are loaded with probiotics, reishi extract and Vitamin C.
This product is made with 100% organic reishi mushroom which the producer grows. You are assured of the highest quality and standard of production. The drink also contains turkey tail and maitake mushrooms, but not in high concentrations. They play an important role in boosting your immunity none the less.
One stick of this immune booster is dissolved into 12 oz. water and you can gingerly enjoy your drink on the go.
Pros
It is easy and fun to consume
It contains probiotics and Vitamin C
Encourages water intake
Cons
One pack contains only 10 sticks that will only last a short time as compared to other supplements
Verdict
This product brings a fun new way of taking your supplements. It also encourages you to take more water which is also good for your health.
Which mushrooms are the best for immunity and why?
Having reviewed the best mushroom supplements for better immunity, it is important to look into some of the mentioned species to see why they qualify to b super foods.
Chaga Mushroom
This mushroom is indeed a super food. It has the highest concentration of antioxidants and melanin of any organism across the globe. It also has a high amount of zinc. This combination of antioxidants and zinc makes this mushroom an incredibly beneficial food for the whole body. It has been known to help in the treatment of various illnesses such as cancer.
Reishi Mushroom
This mushroom is probably one of the most underrated sources of immunity and health for the human body. It has excellent antihistamine and anti-oxidative properties, and it is able to boost TNF-alpha production which is responsible for fighting unwanted tumors in the body. The reishi mushroom has also been proven to enhance the production of RNA and DNA in the bone marrow where red blood cells and white blood cells are also produced. This aspect shows its ability to support immune functions in the body. It has caused tremendous improvement in the health of persons living with HIV and EBV.
Turkey Tail Mushroom
This mushroom gets its name from its shape that resembles a turkey's tail. The polysaccharide PSK that is present in this mushroom is able to limit the formation of sarcoma. This same compound is responsible for the increase of white blood cells that fight against viral infections.
Lions Mane Mushroom
This beautiful mushroom grows to be big and somewhat rugged. It almost looks like the mane of a lion, hence the name. The more interesting thing about this mushroom is its unmatched capacity to promote the growth of Nerve Growth Factor (NGF) in the body. This causes a big boost in the body's neurological functions. It also helps in building the body's immunity.
What should you look out for in a mushroom supplement?
Go for organic supplement
Stay away from products that have mycelium which are lab grown. They contain very little to zero bioactive components and they will not impact your health in any way. Also, do not purchase products with artificial additives. The best method of mushroom extraction is using hot water and freeze drying, and there is no need to add preservatives or stabilizers in this way.
Know what you need, and what the product contains
While medicinal mushrooms impact the body positively, some are more effective in some areas than others. Find out what the active ingredients of a supplement are so that you can know whether or not the particular product will help you the way you need it to.
Proper labeling
Ensure that your chosen supplement product is well labeled and all medicinal components clearly declared. Further, ensure that the quantities of these ingredients are well indicated, along with recommended doses.
In conclusion
Mushrooms have been around for centuries and have been used in old civilizations for their medicinal properties. If you are looking to live a healthier, more wholesome lifestyle, hop into the mushroom bandwagon and watch your health transform. Be careful not to be duped though. There are many people out there looking to make an easy buck. Use this guide as you search for a suitable supplement for your immunity.